A Wormhole to new Drum & Bass territory
Ed Rush & Optical's landmark Virus LP in 1998
28 Nov 2021
sounds
Released in late November 1998, Ed Rush and Optical's Wormhole album solidified a charge into a new sound for drum & bass music that had been emerging for a few years. From early output on Virus Recordings (which Wormhole came out on also) to innovative releases in the scene appearing on Grooverider's Prototype Recordings, RAM Records, 31 Records and Moving Shadow among others, a new turn of tech-stepping beats, electronic sci-fi sounds, and funkier basslines caught a lot of people's attention and established a legacy that lives on to this day.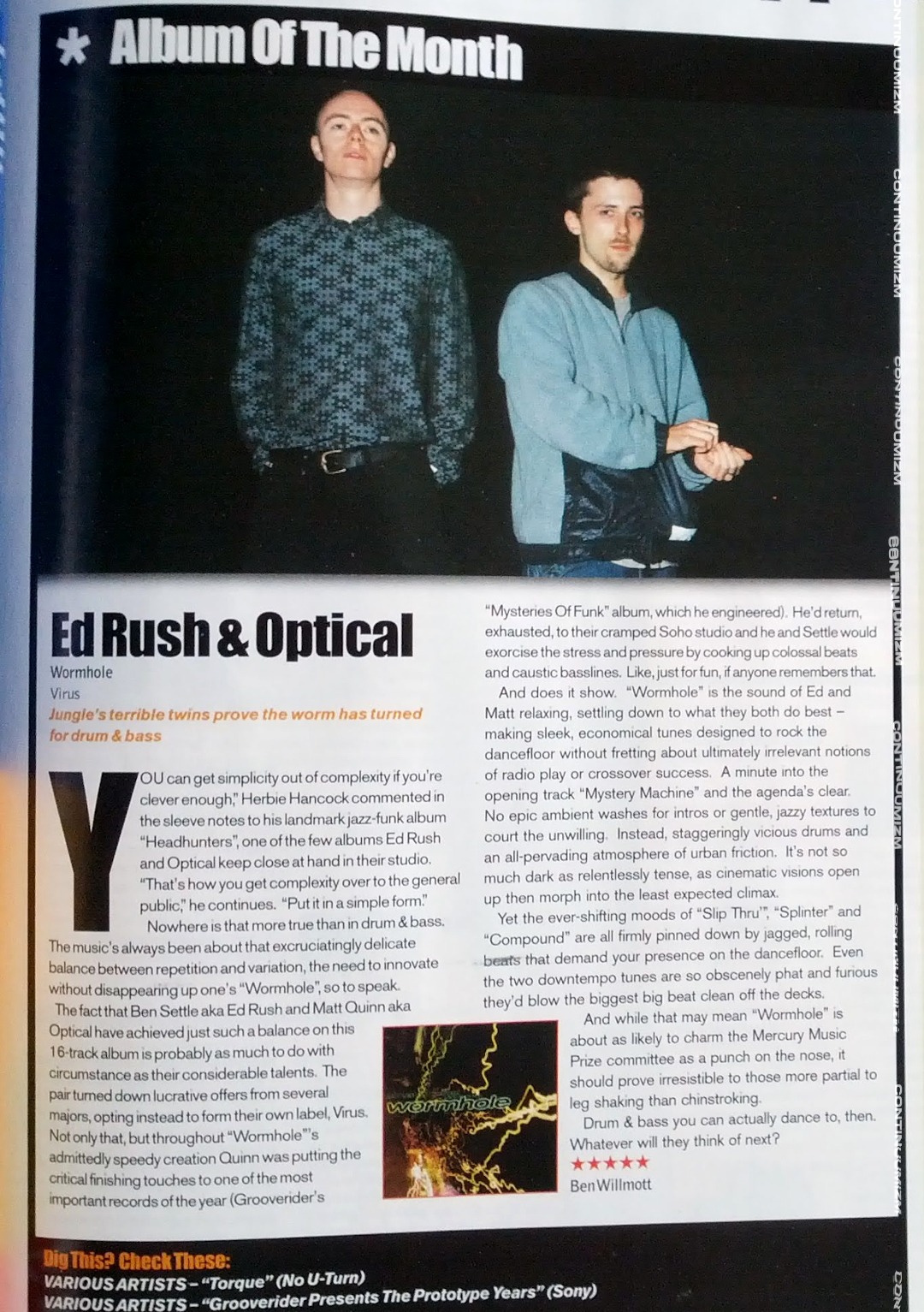 The drum & bass scene in 97/98 had a lot going on. In various corners and styles from jump up to jazzier fusions and the darker side of things the beats were consistently evolving and changing. Inspirations were being drawn from all over including in the studios frequented by Ed Rush and Optical. Optical was busy working as an engineer on some big productions around the scene and exploring his own releases at the same time. Ed Rush continued to develop the techstep sound he helped pioneer for a number of years out of No U-Turn, 31 and Metalheadz. He often remarked about bringing back some of the connections of dance music's roots into the fray - namely techno, the sounds of Detroit. After joining forces with Optical to bust out beats during late night sessions a new mutation started to emerge and you can hear it in many releases around the time. Drums becoming less metallic, an electronic funk reminiscent of Jeff Mills appearing both in the phat basslines as well as the twisting, synthetic, alien-like sounds. Influences and samples in their productions ranged from old funk and jazz drummers to eerie sci-fi sounds; a notable otherworldly presence appearing on most tracks. Dark paranoid vibes continuing an evolution in sound that seems to match the vibe of the world's own march to the millennium.
Deciding to put many of the tunes out on their own label Virus Recordings the releases infiltrate party sets from top jocks all thru 1998 and into 1999 with the first 4-5 releases appearing before the LP even dropped. The LP was a crystallization of the sounds bubbling around the scene and coming out of the studio lab. Optical shared an amazing throwback photo (pictured below) of some dubplates from the famous cutting rooms of Music House where each plate is a notable huge tune from Virus or the forthcoming Wormhole album. All were notable releases and brought both a future sound to the masses, but also kept the beats and bass strong so that dancefloors would keep moving. Something for both the chin-strokers and the ravers alike with beats rolling enough to MC over as well as take you on a journey in the mix. Magic really. The sound was popular and coupled with the continued rise of DnB around the world this was what a lot of people heard as they got into the music and it inspired many new producers. Eventually a name was coined to describe this subgenre of the scene years later: neurofunk.
Radio 1 Session with Grooverider
A month before the album dropped Ed Rush and Optical made an appearance on BBC Radio 1 with Grooverider. The show features a mix from the duo and also a chat about the album with both Grooverider and a phone-in session with callers asking questions. Grooverider had also been working with Optical in the studio engineering his own album Mysteries of Funk the same year and regularly pushing these new DnB sounds in his sets and via his Prototype Recordings label. It's a nice trip down memory lane and also a snapshot of the sounds evolving out of this exciting time in the music that were pushed to the fore on the landmark Wormhole album. Have a listen!
Cover photo: Ed Rush & Optical djing at World Electronic Music Festival (WEMF), outside Toronto, July 2001. Captured by Visualbass on TOravepics.